Questions about Cars and Credit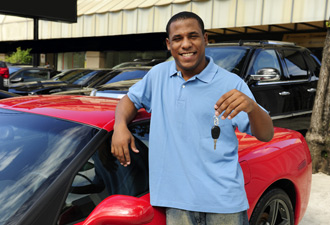 Q: I have bad credit. How can you guarantee me financing?
A: We work specifically with a large, countrywide, pool of lenders that will give you the car financing you need to get in a new car. No matter your credit history, we will get you financing!


Q: Should I apply first or find a used car I want first?
A: Please feel free to start shopping our selection of used cars, trucks, and SUVs but depending on your credit status we may need your approval first. For those customers applying for credit with a rocky past you will want to apply online first. Once we get your approved we will be able to assist you in shopping a select group of cars, trucks, and SUVs. If you have more questions contact us TODAY, don't wait!

Q: What down payment do I need to bring?
A: It really varies on many factors including how much you are approved for, what car you are going to buy, etc. If you are serious about buying a used car from us please contact us for more specific information regarding a down payment.


Q: I live in Charlotte so why should I come see you?
A: Charlotte is expensive. You know, you live there! When you come out to a smaller town we are able to buy our vehicles at the same price as other dealerships but our overhead is much lower. We are able to pass those savings on to you. Plus, we have our guaranteed financing and a great selection of pre-owned used cars, trucks, and SUVs. Put all of those factors together and hopefully that has excited you enough to come see us and get in a new car today! Here's how to find us!